Temple City Wins "Cutest Chamber Ever" Award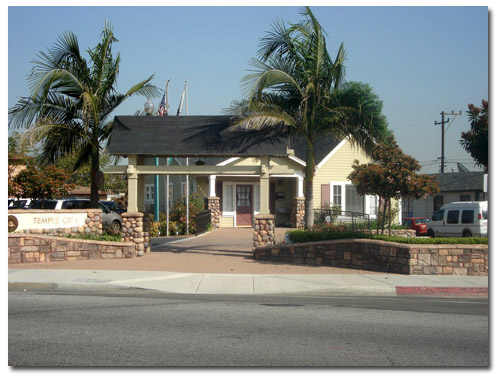 I smile every time I pass the chamber on Las Tunas here in my home town. I love the quaint, craftsman style architecture, and someone sure did a great job with the colors and design over all. The city owns the building, and the Chamber of Commerce has been calling it home for the last 5-6 years. (Here's a business map of Temple City).
Now for a smidge of history (plagiarized from the chamber's site):
"The town of Temple was founded on May 30, 1923 when approximately 285 acres of land were purchased by land developer Walter P. Temple. A one-year celebration for the Town of Temple took place in September 1924 with a rodeo and became officially designated as Temple City in 1928."
Temple City started out celebrating with a rodeo, and I'm excited to report that I think we're getting back to our roots! I've noticed the city preparing the next rodeo grounds, right on Rosemead and Las Tunas! Isn't that great! I do love cowboys!
Now, some people might think that there's a new mixed use development coming,
but I think they just wanted to keep the rodeo a surprise, don't you? Get your chaps ready, folks! All the chiropractors, dentists and doctors in town should prepare for increased business when the grounds are fully developed.