San Marino Real Estate Market Report- March 2008
Can the housing market go down another 10% or 20%? "Sure," grumbled Robert Toll, CEO of Toll Bros.
The head of the nation's biggest homebuilder had reason to be grumpy . . . Toll Bros. just reported its third straight losing quarter. Revenue has fallen 30% from this time last year. Toll went on to say the housing market was in a "depression" and that recovery could be up to three years away.
"I believe the industry will continue to face rising pressures," echoed D.R. Horton CEO Don Tomnitz, "for certainly the next 12-18 months. 2010 will be the earliest we get a more solid homebuilding environment."
So how did San Marino do in March of 2008 compared to the national decline of 14% for the month of March, and the home builders' stresses?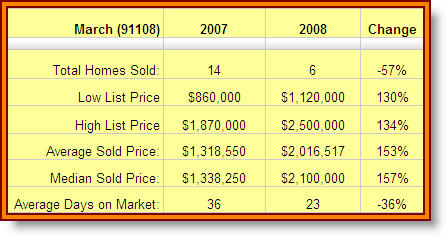 Well, any time you see such a dramatic reduction in inventory, you know changes are afoot. 14 homes sold in 91108 in March of 2007, only 6 in March 2008. That represents a 57% decline in the homes sold. Holy cow.
However . . .
The odd odd thing is that prices are going up, on all accounts. Median home price in San Marino for 2008 was $2,100,000, up 57% from March 2007. Weird, isn't it? I don't know, I guess for the short term I'd have to say that sellers are better off now than they were last year. But it's kind of like a particular stock making a large leap in trading price on low volume . . . it may not have the support it needs overall.
So will the home prices last?
I mean, in what other city are sellers getting MORE than 2007 prices??? Crazy! Perhaps God loves San Marino . . .
I'd have to say I'm not so sure. It feels like that odd green air just before a tornado touches ground . . . things are just a little too quiet.
If you are going to need to sell within the next couple of years, SELL NOW!!! Or be prepared to wait at least another 3-5 years for things to turn around.
How can prices continue to rise when foreclosures (vacant properties) will represent 75% of the transfers recorded in L.A. County within the next 6-9 months??? Most people tend to think that some areas are divinely protected, and some really do seem to be. The thing is, there are national and even global influences yet to shake out, so don't get lulled into a sense of security just yet.
If you need to sell within the next couple of years, sooner is better, and price it right out of the starting gate, for heaven's sake. Chasing the market down isn't nearly the wonderful exercise it sounds like it should be . . . Pilates is way better.