Seller Financing and Drinking Wine in Pasadena
I know wine goes well with a lot of things like cheese, crackers, fruit, dark chocolate, love . . . it's just that I didn't know it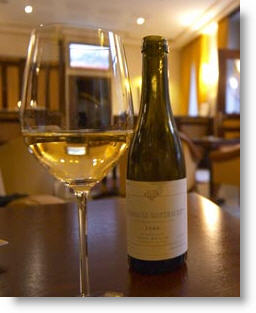 went well with a nice chat about seller financing. And actually, the more wine you drink, the better the conversation gets and the more brilliant you feel . . . that nice fuzzy feeling of, "Wow, we've really shared a nice connection here . . ."
Last night I attended a wine tasting event put on by the PFAR Charitable Foundation (Pasadena-Foothill Association of Realtors). The evening couldn't have been more beautiful as we watched the day fade over the Brookside Golf Course from the back yard of one of Pasadena's highly desirable homes.
I was all dressed up, and if I hadn't spent the evening sinking into the lawn with my stiletto heels, I'd have almost felt sophisticated.
I ended up being able to catch up with some people I haven't seen in a while, and had some nice conversations that I really didn't expect. Even just a couple of years ago, I couldn't seem to hit a single chord of resonance in this type of crowd when I would talk about notes, seller financing, carrying paper, creative financing. I'd usually get a sort of disinterested stare and I imagined them thinking, "This one needs to get locked up."
But as it turned out, I had more than one conversation last night where we were on the same page. It was nice.
One mortgage broker was interested because he owns some apartment units and would like to buy the ones next door, but the owner doesn't want the capital gains hit, and doesn't want to exchange into any more property. He owns it free and clear.
The broker got very excited when I told him that the installment sale was a perfect solution, and that I'd be happy to come in as a consultant to facilitate the deal coming together. The broker can put 20% down, so the seller can safely carry the balance in a first deed of trust.
And, he should be happy to do this when he realizes that the installment sale lets him defer capital gains. He'll only pay on the principal he receives in any given year. The rest of his money sits in the property working for him, and collecting payments on a note is easier than managing property and paying property taxes and insurance.
It'll be fun to meet with him next week. Helping people put or keep deals together by thinking outside the box is one of my all-time favorite things.
Related Reading: