Bunny Sighting in Old Town Pasadena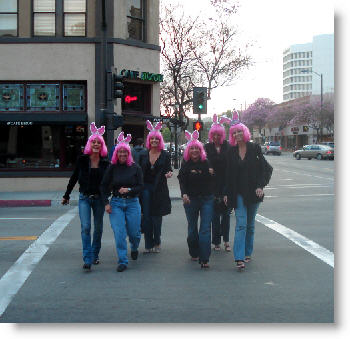 Well, it IS Friday, what do you expect? Plus, I feel it's my duty to warn unsuspecting citizens of how incredibly wild and dangerous Old Town Pasadena can be.
This bunny sighting happened right in front of Cafe Bizou at the corner of Holly and Raymond. Amidst honking and hooting, this brood of bunnies was seen heading into Vertical at approximately 6pm on a Friday evening. They haven't been seen since.
This is the type of unfortunate thing that happens when women are not properly repressed. Women hit their 40's and sometimes they simply break out of social constraint, creating havoc and cultural instability wherever they go.
AND, they seem to be quite amused, don't they?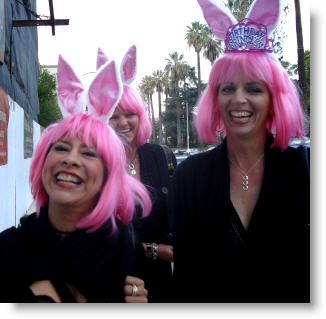 It does appear that it may have been a birthday celebration (note the crown). Six bunnies . . . does this mean that this folly happens six times a year here in our sacred community?!
Good grief . . . perish the thought.
Well, I'll be at Vertical tonight around 6pm, and I sure hope these shameless hussies don't show up.