How Seller Financed Properties Help First-Time Home Buyers Get Their Piece of the Dream
A common buyer's lament: "Now that prices are coming down and it's finally a buyer's market, there's no more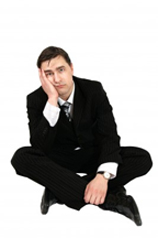 100% financing, and even though I do have a 5% down payment, it's so hard to get a loan . . . what good does it do to have a buyer's market if I can't buy?"
There's a big disconnect out there. Many people who want to buy are discouraged.
But they don't have to be . . . this can be such a great time to put a deal together if you'll just step outside the box with me for a moment. There are ways to consummate real estate transactions without any institutional financing whatsoever.
And they involve some form of Seller Financing: find a property where the owner will carry the financing, leave the existing financing in place, or both.
"Yahoo!" you say, "let me call my Realtor right now so they can find me a nice seller financed property. They'll just look through the MLS and print me out a list of all the properties where the seller is willing to offer terms and provide the financing for me.
Well . . . good luck. Yes, there is actually a place where the listing agent can indicate that the seller is open to this. They can enter: OWC (Owner Will Carry) or OMC (Owner May Carry). Commercial brokers are more accustomed to seller carry back, but residential listings rarely get coded this way.
So does that mean these sellers won't do it?
Not necessarily. What it means is that sellers don't know about it, haven't considered different options that might work for them, and likely, the listing agent has never thought to probe and poke around on the topic. Most sellers and real estate agents just don't think beyond cash-to-new-loan, but I think the time is ripe for this pattern to change.
When you can open your mind and create a solution "out of thin air," for yourself or your client:
Sellers get to sell
Buyers get to buy
Real estate professionals get to eat and look like heroes (when they're involved, of course)
If you're a buyer or a buyer's agent, you're going to need to know how to structure a seller carry back offer. Most sellers don't know that they will accept a seller financing offer until they get one (and the longer they hang on the market, the more open to alternatives they will probably be).
Most owner financed deals are instigated by the buyer's side of the equation. The exception is when (usually older) sellers offer to carry paper as part of their retirement strategy. They usually own their properties free and clear and use the installment sale to defer capital gains and create cash flow.
So, if you want to find a property where the seller will carry, here's some steps you might want to take:
Get Prequalified for a Conventional Loan
You need to know what your finances can handle. Getting a great seller financing "deal" doesn't really help you if you discover 6 months into it that you just can't afford the payments.
Granted, the debt-to-income ratios required by the banks right now may not reflect your true ability to pay, but getting checked out by a traditional lender will give you a good starting point for evaluating your financial situation.
Get a Down Payment Together
Most sellers are not going to get caught being the next round of subprime lenders, handing out 100% financing to anyone with a pulse. An educated seller will typically ask for at least 10% down, but may take 5%.
Yes, it's risky to take 5%, but it may be worth it just to get the property sold quickly. Otherwise, if they have to attract a conventional or cash buyer, they will probably have to lower their asking price. Better to take the 5% and hope that the buyers keep paying than to discount heavily now, they muse.
It is not uncommon for first-time home buyers to get help with the down payment from parents and/or grandparents. Sometimes the money is a gift, and sometimes it's structured as an equity-sharing agreement where both the parents and children own an interest in the property and agree to split the profits when the home is eventually sold.
50% of something is better than 100% of nothing.
Even if you can do no more that put 3-4 months' rent aside, it's possible to get into a property by taking over someone's existing financing. This type of arrangement is most prevalent when the seller owes as much as the property is worth (has little or no equity), and just wants out from under the payments.
If you can afford the payments, then you can 'buy' this property for very little down. When there is less than a 10% down payment, the seller should put the property in an Illinois-type of land trust to: 1) prevent the bank from exercising their due-on-sale clause, and 2) be able to regain possession of the property in 60 days if you quit making the payments.
Find a Seller Financed Property
Finding a seller willing to help out with the financing isn't always easy, but it can be done. You will probably want a good real estate agent helping you, but you need to pick one that understands the owner carry back world. Unfortunately, that can be as hard as finding a seller willing to advertise seller financing.
I can help you root around for a knowledgeable seller financing agent. I have connections in most parts of the country, and can usually help you hook up with someone who understands this expanding niche of the market.
As mentioned above, sellers who have had their homes on the market for a long time may be good candidates for seller financing. Check expired listings, as well as FSBO's who haven't had much luck in selling (and give them this FSBO report).
And, of course, retired sellers who own their properties free and clear are always great owner financing prospects.
Shoot me an email if you're a buyer interested in finding owner financed properties. If you're a buyer's agent, I'm available for consultations that help you put a seller financing deal together.