Notes for the New Year: Peace of Mind is the Most Important Asset to Acquire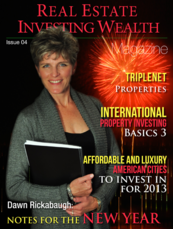 I guess I really got kind of philosophical in this article, in the context of all that seems to be going on in the world these days… we need returns in all areas of our lives… not just financial.  What's the point of investing intelligently, but never having the peace of mind and general sense of well-being to enjoy any of it?
I've been happy to be a part of this rather new (this is issue #4) Apple Newsstand iPad app: Real Estate Wealth Magazine.  For a short time, he's offering a 1-month free trial, and a 40% discount on the subscription.  I think he does a great job with this, so it's is a great time to check it out.
For the video portion of my article, I go through a series of transactions with two elderly ladies over the last 5 years… 'the dance between property and paper' from a variety of angles… it was fun to share.
Wishing you the best in the New Year!