[The video above was for the launching of the very first class.  You get 7 videos covering the live training calls… 2.5 hours of training!  And don't forget, you have 45 minutes of private consultation with me as well, just in case you have questions that weren't covered in the recorded materials.]
This course is FREE to members of the Owner Financing Club community!
A few days ago, I got an email from someone who wanted to learn how to appraise notes to generate extra income. She wanted to know if I knew of any training that would help her become a professional note appraiser… she wanted to become a "Certified Note Appraiser".  I don't offer any certifications (and nobody cares… I've never been asked by anyone to provide proof of certification) but I can show you what I've done to earn a few extra thousand dollars a year providing note appraisals for attorneys and their clients.
When I first started doing note appraisals, I honestly thought that most of my clients would be individual note holders who just wanted to know how much their note was worth… so they could know if the price they were being offered by another buyer was reasonable or not.What surprised me is that 90% of the note appraisals I have done (and been paid $350 a piece for) have been done through estate planning attorneys.  This is not what I expected, and I suspect that most note brokers who are thinking of offering note appraisal services would be surprised by this as well.
A single attorney connection turned into several appraisals a year, and though I definitely couldn't make a full time living appraising notes,
I sure have come to appreciate all the different ways that I can use my knowledge of the note business to bring in extra cash,
and create conversations that help people remember me when it's time for those notes to be sold.
The first round of notes I appraised was an $8,000,000 portfolio of commercial notes. The purpose was to help the client reduce the back estate taxes the IRS was coming after. The IRS was trying to get another $1,000,000 in back taxes out of the estate, and the goal was to decrease that liability to $500,000 through accurate, thorough and compelling note appraisals.
Through the process of working with that attorney, together we modified the basic raw template I started with to be as defend-able and legitimate in front of the IRS as possible. In the end, the appraisals saved the estate about $250,000… not what we were hoping for, but pretty good… they spent $4,200 for 12 appraisals, and saved a quarter of a million… pretty decent return!
And I was fairly pleased with the additional income that month!  Now that I've created and tweaked my 3 note appraisal templates…
Estate planning secured notes
Estate planning unsecured notes (which I treat like business notes)
Regular note holder appraisals
I can put these appraisals together pretty quickly, and the 7-page report is everything the attorneys are looking for and more.
I make a living in a variety of ways using my knowledge of "The Dance Between Property and Paper" and professional note appraisal is one of them.  So, I'm going to teach you how to add this tool into your toolbox for increasing the ways you can make money from understanding notes.
I'll provide you with:
My 3 templates in Word form so you can easily substitute your own information and quickly create your own professional note appraisal reports (this alone is worth the $$$)
The super simple brochure I used to get started several years ago
Copies of the PowerPoint presentation in pdf format

You'll get 2.5 hours of videos covering the 2 live calls we originally recorded
Included in the tuition for the class is 45 minutes of one-on-one consultation, whether you need it now, or when you're putting together your own reports.
So, if you want to add note appraisal to your arsenal of income-producing weapons, sign up for this class…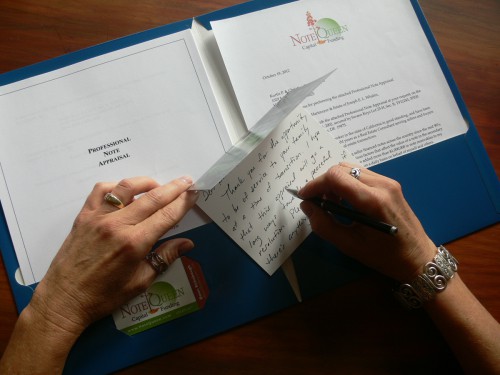 OK, so no hard sell… I really don't care for slick and perfectly manipulative sales pitches… this is either right for you or it's not!  And if it's not, I don't want your money! I do want people who can realistically make extra income leveraging the knowledge they've already got from studying the note business.
And you won't have all the learning curves I did on this… it was really a fortunate blessing to have a couple of high profile estate planning attorneys help me create my professional note appraisal reports… I couldn't have afforded them at their rates!
They helped me because they wanted my reports to be thorough and compelling so that their high net-worth clients could save hundreds of thousands in taxes. You'll get the benefit of my good fortune when you sign up for this training.
Learn to earn a few extra hundred (or even thousand) dollars a year providing note appraisals for attorneys and their clients, and sometimes individual note holders by using the link below to sign up.  Even if you only do one appraisal, you'll triple the money you invested in this training 🙂