March 2008 – Temple City Real Estate Market Report – 91780 Homes Sold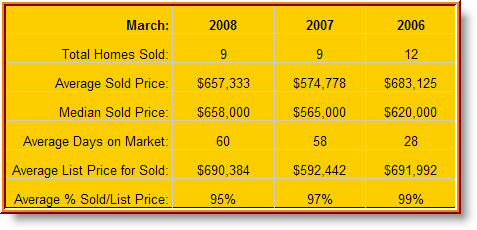 As you can see from the above market statistics, home sales have not changed much since March of last year. The number of closings is the same, and days on market is also very similar.
Prices are holding fairly well in Temple City, reasonable sellers getting an average of 95% of their asking price. In fact, prices appear to be up substantially over last year, but the numbers are affected by a couple of very large and expensive homes that sold last month.
60 days on market isn't bad, considering that the national numbers are showing 10 months of inventory (meaning, the average time it takes to sell a home is 10 months).
Besides staging and making your property attractive physically, another way to make sure you get as much as possible for your property is to offer terms, if you can. There will always be more buyers for your property if you advertise: OWNER WILL CARRY.
Why not sign up to be notified of updates automatically?
Find a home in Temple City, or just read more on Temple City living.