Investor's Business Daily and Rickabaugh Have a Chat About Seller Financing
It's great to see that the media is increasingly picking up stories about my favorite topics. I had the privilege of being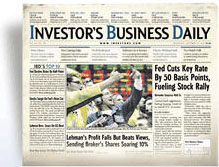 interviewed by IBD recently. You can read the article in today's paper: "Seller Financing Can Seal the Deal in Rough Market." Here's the first couple paragraphs:
"Owner will finance."

Those three words are coming back in today's real estate market.

With financial markets in turmoil and lending very tight, home sellers who own, or have equity and a stable mortgage, are financing deals to lift their property's attractiveness.

"The last time the market was down, creative financing was up," said broker and owner-financing consultant Dawn Rickabaugh of Rickabaugh Realty, in Pasadena, Calif. "We're hitting a time when creative financing is up again."
Liquidity (the ability to readily convert assets into desired benefits) is desperately needed in today's economic climate. I love showing you how you can create your own liquidity. You're not necessarily at the mercy of the market.
And what about superior tax treatment? The installment sale and/or the land trust (sometimes in conjunction with a 1031 exchange) can really save on capital gains, which is always an important conversation.
Lots of baby boomers are ripe for seller financing exit strategies in today's market. Let's talk!
(In case the above link to IBD doesn't work, you can read the article here)