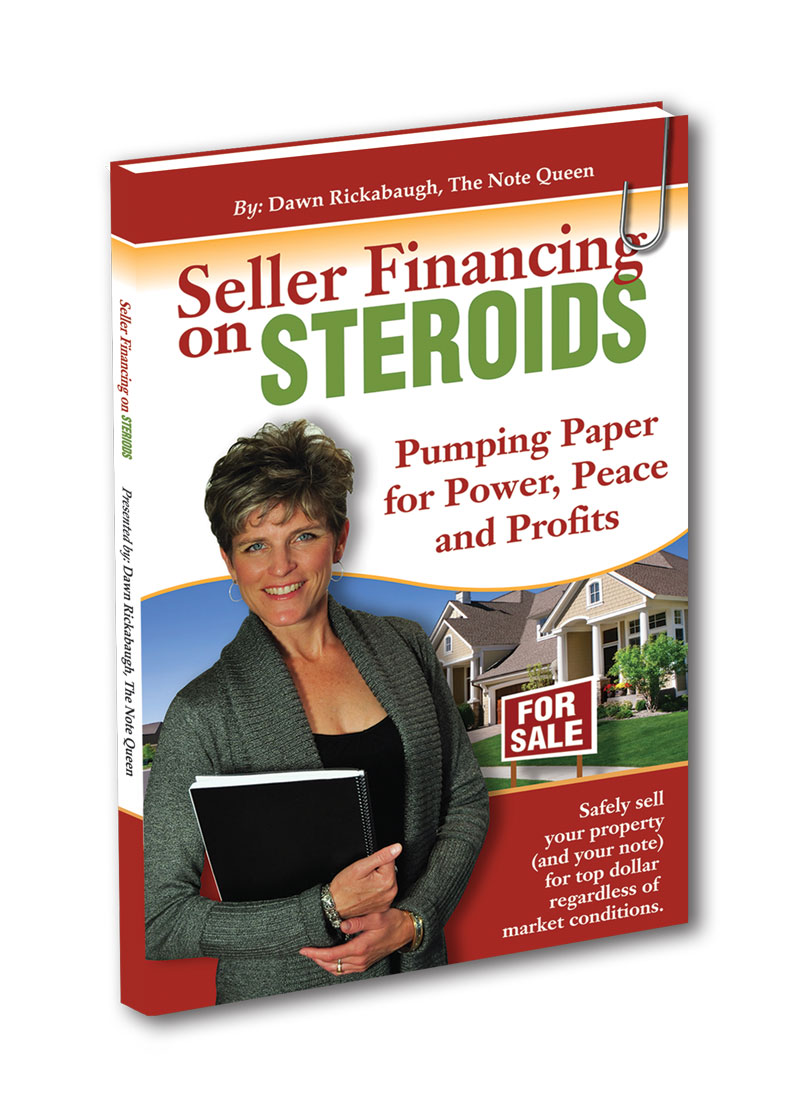 [Free when you join the Owner Financing Club community].
By entering your email up above, you'll receive a free 32-page preview of the 92-page "Seller Financing on Steroids". I've spent a lot of time talking with property owners, note holders, Realtors, investors, note brokers and home buyers, who are all very interested to know how owner financing and the discounted note business works.
If you like the free preview, it'll make sense to purchase the full eBook version. This 92-page ebook is jammed packed with information about owner financing strategies, ways to defer capital gains, and how to create and sell a strong note.
If you prefer to hold it in your hands and spill coffee on it, you can buy the book on Amazon.

"AMAZING Dawn! I knew absolutely NOTHING about notes and after reading your e-book I feel I have a solid foundation on which to build my knowledge of notes. It's obvious a lot of work went into this endeavor. Thank you for so graciously sharing this valuable information for FREE! When I'm ready to take the note plunge I look forward to working with and learning from you. Thanks again" – Rickey
"Dawn:  I had a chance to read your book, and found it very engaging, informative, and frankly inspirational.  Accordingly, I'd like to learn how I might be able to work with you on real estate transactions.  I am a real estate attorney and broker and represent clients in all sorts of real estate litigation and transactions, but I do not have experience in seller financing.  If I have a seller offering owner financing, and we are contacted by a prospective buyer, what are the next steps to take?  And what is your preferred mode of compensation so I can structure your fee in properly.  Thank you," ~ Tim

"Thank you Dawn.  Your information is informative and easy to follow.  I also enjoyed your down-to-earth humor throughout the reading." ~ Elaine

"I loved how complete the Seller Financing ebook was! I love IRS tax issues with Residential Property and selling property creatively (wraps-AITDs, etc). Violating the due on sale clause when selling creatively is worry for many sellers. Your solutions seem elegant, with Trusts. Minimizing or Eliminating the Capital Gains tax over the $500,000 Exclusion with an Installment Sale is also "The Complete Look" at selling a home over $500K in California. Marketing for a "selling on terms" home is a puzzle: How do we find buyers that can not qualify traditionally thru FHA but have high income and 20% Down? MLS Only? Especially an expensive home, say over 1.5 mil? Again, best book on seller financing I have seen, especially relevant for today's market! Best to you Dawn." – Brian

"Hello Dawn! Yes I did get to shoot up with steroids and it was awesome! So much good information that I will be using to purchase multi-family units. I will give you a call if I need any help thank you so much!" – Albert

"Seller Financing on Steroids was very informative & helpful. I wish that I read before I agreed to terms on my first owner financed deal. I would have paid more attention to term length and interest rate. But I'm glad that I read it before the actual contract and mortgage have been drawn up. Thanks" – Bruce

"Great job!!! on Seller Financing on Steroids. I've read a little and will learn a lot from this book. Thank you." Mike

"I have indeed read the book and find it to be very informative. It was written at a level that just about anyone can understand. I am an investor that has some properties I would like to sell and could use some money to get rid of some debt built up thru the fix up stage. Banks are so hard to do anything with so I am looking for alternative avenues to sell the property and also for a new area to make some money." – Ken

"I have read a lot of your book, up through "7 Mistakes". It has been extremely helpful. Our house has been on the market 7 weeks and not 1 single showing. Now we are considering Owner Financing the house. We are very nervous, we've never done anything like this. we've never even sold a home, this was our first. Your book has been very helpful and answered many questions… thank you." – Amanda
************************************************************
Join me on Facebook, become a fan, and keep an eye on the Events Calendar so you don't miss anything!